Wednesday, June 01, 2005
Two peas in a pod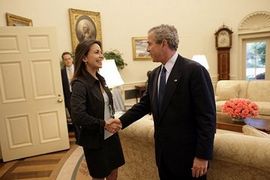 Gee, look who got invited to the White House yesterday. None other than Maria Corina Machado, the head of opposition NGO SUMATE.
"We dicussed our vision of the future and assured him that we Venezuelans want to live in democracy and liberty. We were invited by Bush because he is interested in hearing civil society's perspective on democracy" , said Machado.
Well, if Bush just wanted to know what Machado thinks about democracy he didn't have to go to all the trouble of bringing her to the White House. He could have just checked out her signature the document supporting the overthrow of the President and the abolition of the Assembly, Supreme Court, Electoral Council, etc, etc. in April 2002. I think that gives as clear an indication as anything how little use Machado and her ilk have for democracy.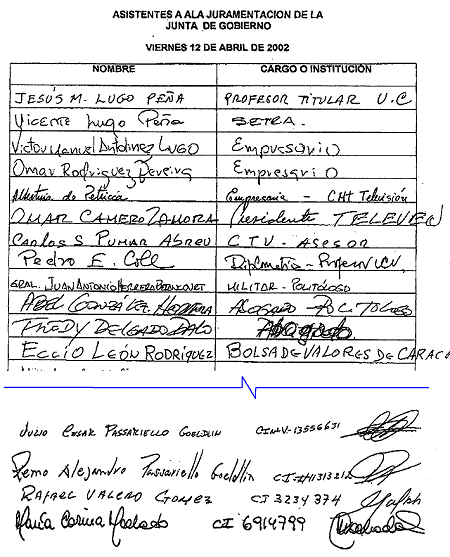 UPDATE
Some have asked for additional information on Machado's signing.
Here is a Quinta Dia article
giving all the names of those who signed the "acta de proclamacion" and if you go down the list about a third of the way you will find Ms. Machado's name.
Here is another site
where the list is easier to read - she is number 144.
Of course the request, after the Carmona Decree was read, for people to sign it was amply video taped as was Ms. Machado standing on line and signing. Channel 8 has shown it many times and if you stay tuned to that channel (which you should be anyways) I'm sure you will see it before to long.
|