Monday, February 27, 2006
On time
As I am sure all Oil Wars readers are aware the Caracas-La Guaira highway closed in mid-January due to its main Viaduct being unsafe. Since that time the Venezuelan government has been working 24/7 to get a temporary alternate route built. It set the goal of completing the replacement route on February 26th, in time for the Carnaval holiday when many Venezuelans head for the beach.
Now, I am not exactly pointing out anything new, nor slandering anyone, if I say that not much of anything in Venezuela ever happens on time. Yet yesterday, February 26th, the government inaugerated the Viaduct 1 bypass and re-oponed the highway.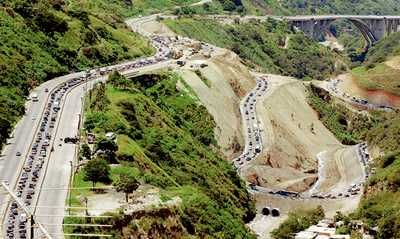 It might not be much to look at as it snakes its way along the steep ravines. But it does get the job done - and not a moment too soon. Job well done.
|