Monday, May 29, 2006
Will the Faja impress OPEC?
Later this week the OPEC oil ministers will be meeting in Caracas. Unfortuntely, it looks like production cuts, which Venezuela and Iran have been pushing for, and rightly so in my view, are non-starters. To a certain extent I can see why - cutting back production as oil is selling for over $70 per barrel could come across quite badly. Nevertheless, with oil and gasoline stocks rising and approaching record levels one has to wonder if oil prices are close to taking a big plunge and if the ministers won't later see the Caracas meeting to have been a significant lost oppertunity.
So if production cuts are off the table what can Venezuela hope to get out of this meeting? Probably the biggest thing is the recognition of the huge unconventional oil reserves in the Faja del Orinco which were nicely explained in
this article
:

Oil-rich Venezuela looks to vast tar deposits to supply surging global energy needs
Monday May 29, 2006
By NATALIE OBIKO PEARSON
AP Business Writer

JOSE, Venezuela (AP) Beneath the plains and winding tributaries of the Orinoco River lie what Venezuela believes is the planet's largest oil deposit a tar-soaked basin that could help meet spiraling global energy needs.

It's known as the ``Faja,'' or ``belt'': a strip three times the area of Kuwait potentially holding 1.2 trillion barrels of extra-heavy oil.

Jet-black, sticky and oozing like molasses, Orinoco oil was long written off as too difficult and costly to produce. Now rising oil prices make it increasingly attractive.

President Hugo Chavez, who hosts a meeting of the Organization of Petroleum Exporting Countries on Thursday, says these unconventional reserves mean Venezuela will become the world's leading oil source for decades to come.

``Venezuela has the largest oil reserves in the world,'' Chavez declared recently, referring to the more than 300 billion barrels of oil he believes is recoverable, mostly from the Orinoco belt.

Saudi Arabia, which pumps more oil than any other nation, claims 260 billion barrels of so-called proven reserves, or roughly 25 percent of the world's conventional oil, according to the U.S. Department of Energy.

Chavez, who accuses multinationals of looting Venezuela's oil wealth, has squeezed a greater share of profits from the industry. A new tax on Orinoco operations takes effect this week and the government plans to take majority control of the projects eventually.

But private companies largely locked out of the Middle East and many other conventional oil reserves have not been scared away.

As light, easy-to-producetuff at very low cost,'' he said, expaining that producing a barrel of Venezuelan synthetic crude can cost $16 (12.50 euros) a barrel, compared to a barrel from Canadian tar sands that can go as high as $30 (23 euros). Orinoco crude can be produced economically as long as the oil price stays above $22 (17 euros) a barrel, he said.

Shell Venezuela President Sean Rooney says his company is interested in bringing technology it uses with tar sands in Canada to the Orinoco. Venezuela has agreed to study the possibility.

ConocoPhillips Chief Executive James Mulva said last month that his company also hopes to have a chance to ``expand our investments'' in extra-heavy crude.

Venezuela, meanwhile, is wooing other companies interested in quantifying and certifying untouched areas of the Orinoco.

Chavez has turned to companies from politically friendly countries: Iran's Petropars, India's ONGC, Brazil's Petrobras, China's CNPC, Russia's Gazprom and Lukoil and Spanish-Argentine Repsol YPF.

But Venezuela faces significant hurdles. Much depends on improving the percentage of Orinoco oil that can be extracted.

The recovery rate in the Orinoco is currently as low as 7 percent, though Venezuela is aiming to extract at least 22 percent. Current worldwide average recovery rates are about 35 percent.

Venezuela already boasts the largest proven reserves outside of the Mideast that is, some 80 billion barrels that can be recovered at current prices and current technologies. It hopes to quadruple to 315 billion by counting its Orinoco reserves by the end of 2008.

Chevron's Moshiri says meeting those goals will require 30 new upgrader plants and more than $200 billion (150 billion euros) of investment.

For reference I am republishing a map of where these reserves lie: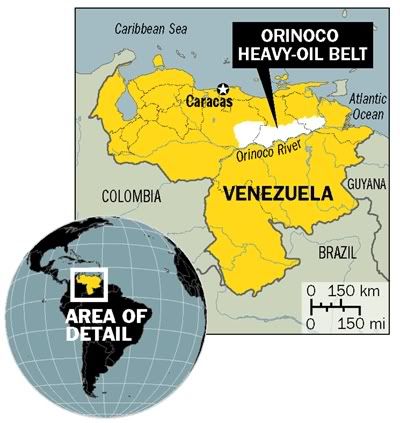 And a table comparing Venezuela's reserves to other countries if the Faja del Orinoco reserves were included:
How exactly OPEC sets its quotas is something of a mystery. But in theory a countries quota is supposed to be proportional to its proven reserves. Therefore, if Venezuela can get the Faja reserves recognized by OPEC its quota could be significantly increased allowing it to up its production without violating quotas and trashing prices. This would be a major victory for Venezuela and if this meeting helps bring it about it would make this meeting more than worthwhile from Venezuela's point of view.
|