Saturday, August 19, 2006
A Venezuelan Hummer
In the U.S. there has been an SUV craze for the past year with these ever larger trucks hogging up the highways. This culminated in the last couple of years with the appearence of the Hummer, a civilian version of the military Humvee which Iraqi children run around blowing up in their free time. Given that many of the cultural fads that sweep the U.S. eventually make their way to Venezuela it should be of no surprise that these monster SUVs have appeared there too.
Of course, now that Venezuela is following a more nationalistic military policy it isn't going to be content to buy Hummers from the U.S. so it has started manufacturing its own. They are called "Tiuna" after the military base where they are manufactured by a joint military-private factory and today Ultimas Noticias had an article describing them.
They began manufacturing them in 2004 and so far this year they have made 160. Presently they are making 3 per day. The chasis are made in Valencia and the engines are imported from Mexico. Finally assembly then takes place in the plant in Caracas where about 250 workers are employed. In the near future they plan on making the engines in Venezuela also.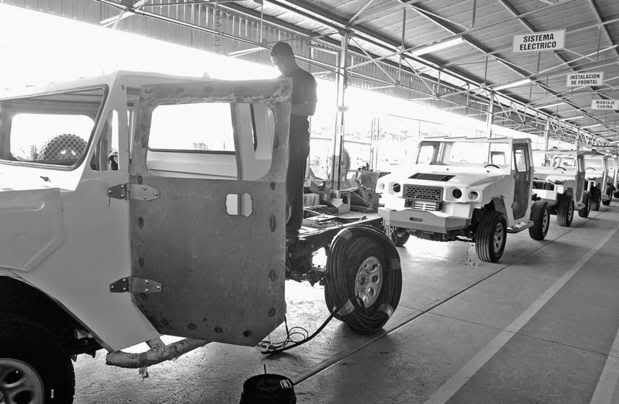 On the assembly line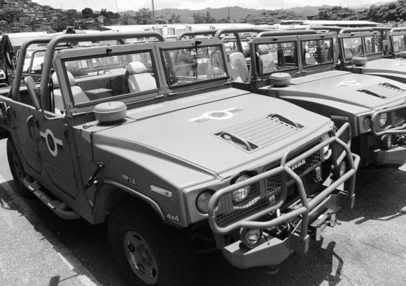 Fresh off the assembly line
These are primarily made for the army with some having anti-aircraft weapons mounted on them and others having recoiless rifles and anti-tank weapons. The big advantage to building these things in Venezuela is that they can make three of them for what each jeep that they used to import cost. So that is quite a savings for the Venezuelan nation and helps create jobs and develop technologies locally.
Like their U.S. counterpart they are also finding civilian uses, though they have yet to be marketed to private citizens. Some are going to local governments where they are used as ambulances and rescue vehicles. Unfortunately, the Ultimas Noticias article describing these vehicles didn't give any information on their milage. Then again, as long as you use it in Venezuela, where gasline is practically free, I guess it doesn't matter.
The final product
|