Saturday, September 16, 2006
Do as we say, don't do as we do
With Chavez holding a 40 point lead in the campaign for President it almost isn't worth blogging about. But from time to time something interesting comes up.
The opposition has constantly complained about Chavez using his offices and the government to help his campaign. Some of those complaints are definitely valid. Certainly plastering "With Chavez we all govern" on all government advertisements is hardly fair or proper. So the opposition does have a legitimate issue with this.
However, leave it to those bone heads to promptly go out and do even WORSE.
For example Manuel Rosales, who is the main opponent of Chavez and also the governor of the state of Zulia has recently use official Zulia advertisements to promote his campaign as can be seen here: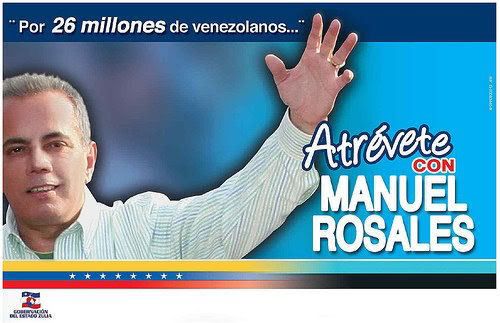 This ad calls on people to "be bold" with Rosales yet it clearly has the offical label of the State of Zulia on the bottom as this blowup shows:

This would seem to clearly indicate that Zulia government funds are being used for outright campaign ads. Even the Chavistas haven't done that yet!!!
But it gets worse. The Venezuelan electoral authorities have banned subliminal advertising. Yet the Rosales campaign has just be caught using them. In advertising that was ostensibly for the State of Zulia his campaign slogan "Atrevete" was shown for a fraction of a second. This had was shown repeatedly for weeks before being pulled. One can see a bit of it
here
.
Once the Rosales campaign was caught they, as the opposition always does, refused to take the blame and said it was the mistake of their publicity firm!! Apparently it was all a mistake in the editing of the commercial. Yeah, right we beleive that!!

So when it comes to the opposition you aren't supposed to cheat because they will promptly denounce that. But if they turn around and cheat too, well that is A-ok. They just never change.
BTW, here is the text of the Ultimas Noticias article where it was attributed to the advertising firm, just for documentation purposes:
EXPLICACIÓN PRODUCTORA DEL COMERCIAL DICEN QUE NO HUBO MALA INTENCIÓN
Propaganda subliminal fue un error de edición
Pelón al rehacer un video original dejó la frase que se quería quitar
ALEJANDRO BOTÍA
Caracas. A un error de edición atribuyó el presidente de la firma de publicidad AIP, Carlos Rodríguez, la inserción de la palabra "atrévete", en el comercial promocional de la gobernación de Zulia, que el Comando Miranda calificó como propaganda subliminal.
La pieza, que desató un escándalo político por la presunta utilización de técnicas ilegales de sugestión inconsciente, se originó tras la rematrización de un comercial previo elaborado a finales de julio para la entidad occidental, el cual intercalaba cinco veces la frase "atrévete" durante sus 30 segundos de duración.
Después que el CNE aprobó las normas de publicidad y propaganda para la campaña (que impiden usar eslóganes de los candidatos en los comerciales de instituciones públicas), la gobernación zuliana solicitó a AIP modificar el video original y sustituir la palabra "atrévete" por la frase "el camino", explica Rodríguez.
La productora insertó el nuevo mensaje sobre el espacio ocupado por los anteriores, aplicando una técnica conocida en el argot publicitario como "wipe" o barrido, que consiste en difuminar la imagen mediante el desvanecimiento progresivo de sus elementos.
En una de las cinco inserciones de "el camino", la duración del barrido fue ligeramente inferior al tiempo de exposición de la frase original. De este modo explica Rodríguez que alcanza a percibirse durante 1,5 décimas de segundo la palabra "atrévete" en la nueva versión del comercial.
Ricardo Sucre, miembro del equipo creativo del comercial, asegura que no existió ninguna intención velada y que de ser así, se habría intercalado la frase en los cinco segmentos y no sólo en uno. También desmiente que pueda atribuirse a la mera palabra "atrévete" la generación de conductas inconscientes. La pieza se transmitió 4 veces al día en tres canales por tres semanas.
|