Monday, March 19, 2007
Rolling right along
Another week, another massive public works project initiated. Last week it was Caracas's turn again as another suburban rail line began contruction. This time it was the Guarena Guatire rail line that runs east from Caracas. Its beginning was certainly low key: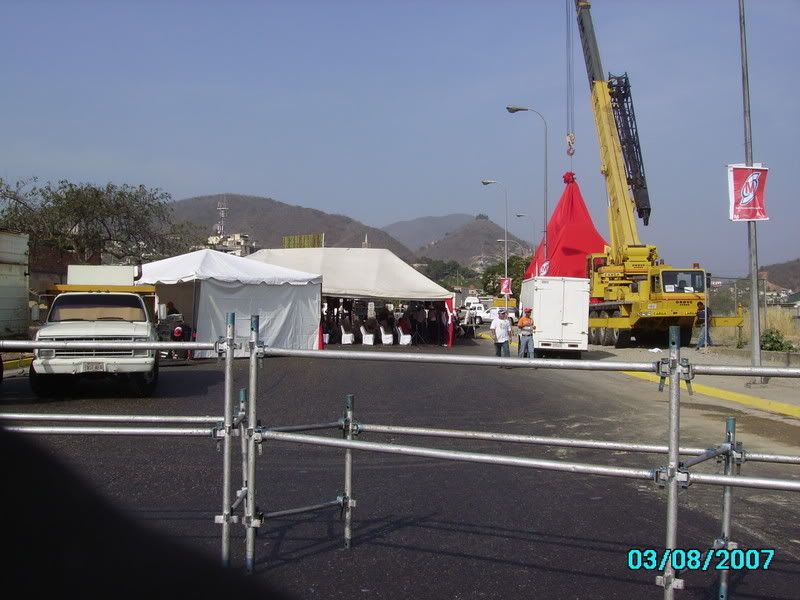 But the project is anything but small. Connecting with the Caracas metro it will run east, as usual over valleys and through tunnels, for 41 kilometers. It is expected that it will serve 125,000 daily riders when operational. Oh yeah, it costs a cool $3 billion dollars and will take about six years to complete (I sure hope it is finished before the next presidential election).
With this the Caracas has three major rail lines under construction. The other two are the number 5 subway line and the second phase of the train to Los Teques. This doesn't even count the construction of the remaining metro stations on the number three line extension and the
MetroCable gondala system
that will reach up the mountain sides where Caracas's poorer residents often live. Caracas's
massive and varied public transportion system
is sure starting to cometogether.
It is in part these massive public works projects that must be helping Venezuela outperform its oil exporting peers in economic growth:
Lastly, it was
pointed out today
that the the millions of energy saving light bulbs being installed throughout Venezuela are saving the country 850 Megawatts over power consumption.
Massive public works started, an economy outperforming its oil exporting peers, and Venezuelas green energy saving policies starting to pay dividends - not bad for one days news.
|