Thursday, November 10, 2005
You can't make this stuff up
The other day a few opposition supporters decided to have a public birthday party for Carlos Ortega who is currently in jail. Who is Carlos Ortega and why is he in jail?
A little background. Carlos Ortega was up until a few years ago the head of the Venezuelan Federation of Workers (CTV) which is the largest "union" federation in Venezuela. I put the word union in quotation marks because the CTV isn't really a union in the sense of looking out for the interests of working people. Rather is was a appendage of what was one of the largest and most corrupt political parties in Venezuela. Further, under Ortega it was very closely allied to the main business federation, Fedecamaras. In my
previous post
I talked about poodles – I think it would be quite accurate to refer to Ortega and the CTV as being the bosses poodle.
Now, Ortega didn't wind up in jail just because he was a poodle to the business elite. Rather he is a serial violator of Venezuelan laws and has tried to overthrow the government on more than one occasion. For example, he was instrumental in bringing about the April 2002 coup against Chavez. It was he who stood in front of the crowd at the PDVSA headquarters and said "Lets go to Miraflores to take the tyrant out". Not only was this sending people on an illegal march that had no permit it was deliberately sending them into a bloody slaughter. It is now known that the coup was
planned in advance
and most likely the violence of that day was intentionally brought about by the opposition too as a pretext for the coup (this just shows how unbalanced some opposition supporters are that they would celebrate the birthday of someone who intentionally tried to get them killed.)
Less than a year after that debacle Ortega tried to unseat Chavez again, this time co-leading a "strike" along side Fedecamaras. Day after day Ortega appeared on TV to assure the nation that Chavez would be leaving any day now. First it was we'll be celebrating Christmas without Chavez (when that didn't happen they actually decided to cancel Christmas – and no I'm not joking they really went on TV and said Christmas is cancelled). Next it was we'll have New Years without Chavez. When New Years came and went and Chavez was still around the strike started to falter. But by the time it was all over the country had lost 14 or 15 billion dollars and the economy was in a full blown depression.
It was for these seditious acts that Ortega's arrest was sought. Or course, not one to willingly face justice he went into hiding and then he fled to Costa Rica. After Costa Rica threw him out he snuck back into Venezuela where he was eventually captured in a bingo parlor.
So if the guy is a complete sell out of his unions members, has tried to overthrow the government twice, has intentionally gotten his own supporters killed, and has cost the country billions of dollars how could there still be people out there who would want to celebrate his birthday? Well, as hard as it is to believe they do exist. Have a look:
Here is the group of Ortega supporters holding up signs and his cake. It may seem like a small group but that's the best the opposition can do these days.
The sign says "We demand his liberty". On the bottom it indicates it is by the union of workers for the National Electoral Council (CNE)?!?!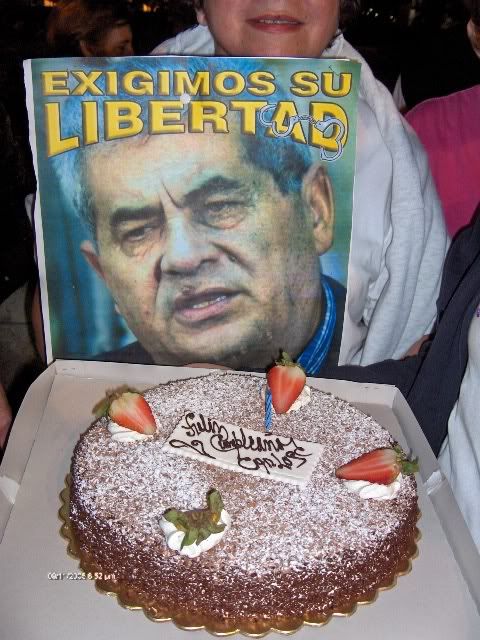 Here is a close up of the cake which has written in the frosting "Happy Birthday Carlos"
Now while I wish all human beings the best on their birthday its hard to imagine wanting to celebrate this individuals birthday. But I guess there are all kinds in this world – even crazed and irrational opposition supporters. Fortunately for Venezuela there aren't very many of them.
PS, it is probably out of line for me to say this but that certainly looks like a sad excuse for a cake. I guess that's what happens when you have servants do all your cooking for you – you forget how to bake cakes.
|